SheaMoisture Review and Giveaway
I recently started using African Black Soap after hearing great things about it. I contacted the makers Shea Moisture and they sent me a package of a some of their products to review!
I was SO excited to get this box in the mail! I could not wait to try them out and let you all know what I thought!
About SheaMoisture:
Since 1912, SheaMoisture has been committed to making the highest quality natural skin and hair care products, which are healthy, therapeutic and results-oriented. The brand utilizes family recipes handed down from co-founder and CEO Richelieu Dennis' great grandmother, Sofi Tucker, who as a young mother sold her shea butter creations to support her family in Sierra Leone. SheaMoisturehas created the Sofi Tucker Foundation, which supports organizations around the globe including fair trade cooperatives, charitable and empowerment organizations and local community projects.
Another note about the company: All of the products are made in the USA and have No Parabens, No Phthalates, No Paraffin, No Gluten, No Propylene, No Mineral Oil, No Synthetic Fragrance, No PABA, No Synthetic Color, No DEA, No Sulfates, and No Animal Testing.
I received a bar of the SheaMoisture African black soap, SheaMoisture Olive & Green Tea
Body Scrub, SheaMoisture Coconut & Hibiscus Body Butter, Raw Shea Chamomile & Argan Oil Baby Head-to-Toe Wash & Shampoo, Raw Shea Chamomile & Argan Oil Baby Healing Lotion, and the Raw Shea Chamomile & Argan Oil Baby Head-to-Toe Ointment
For Mama
SheaMoisture Coconut & Hibiscus Body Butter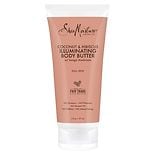 When you hear Body Butter you think thick right? Well its not that thick, this is a great lotion for every day use if you have dry skin like I do! It is actually a firming and toning lotion that is free of all the harmful ingredients found in most other products out on the shelves. It also has a great smell that is not too overpowering, and it is not greasy like other brands I have used. I seem to be more sensitive to smells these days. Overall, I would definitely purchase this body butter and they offer a variety of scents as well!
SheaMoisture African Black Soap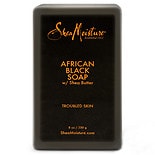 This soap is made from certified organic ingredients like all of the other Shea Moisture products. It has been used in Africa for many years. It is made from palm ash, tamarind extract, tar and plantain peel. It is used to help treat and prevent many skin issues including Acne. My husband has really bad bumps on his back and the African Black Soap has helped tremendously with his problem areas. I use it on my face as well as lather up my loofah with it. Having dry skin I usually do not use a bar soap, but this soap is moisturizing and does not leave a residue like others.
SheaMoisture Olive and Green Tea Body Scrub
While my husband was home over the weekend, I decided to pamper myself with this scrub. Oh my! The smell was heavenly! It is truly a clean and refreshing scent. It proved to be very moisturizing after I rinsed because I could feel a barrier of moisture. It has anti-aging properties due to the olive butter, green tea, and avocado. This would be great during the winter months for hands or rough areas, such as elbows or knees! Overall, I loved it!
For Baby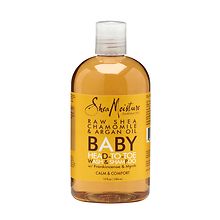 SheaMoisture-Raw Shea Chamomile & Argan Oil Baby Head-to-Toe Wash & Shampoo
This head-to-toe wash is made from Organic Shea Butter, Argan Oil, Frankincense and Myrrh, all of which have great moisturizing and healing properties. My daughter has very sensitive skin and this wash has not seemed to bother her. She seemed to have more moisturized skin after her bath time. We did however follow with the lotion.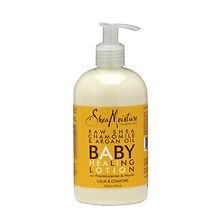 Raw Shea Chamomile & Argan Oil Baby Healing Lotion
This lotion smells just as good as the head-to-toe wash. It can be used after bath time or whenever extra moisture is needed. The ingredients are similar to those in the wash, including
Organic Shea Butter,
Cocoa Butter, Argan Oil and Aloe Vera with Vitamin E, Frankincense, Myrrh and Chamomile extracts. My daughter inherited my dry skin so putting lotion on after bath time to lock in moisture has been a nightly routine for us!
Raw Shea Chamomile & Argan Oil Baby Head-to-Toe Ointment
This ointment is great for chapped lips, and anywhere you need an extra little boost of moisture! My little one needed it on a few sores she had. I put it on them and in a few applications the spots were gone or pretty much healed. This is also safe for everyday diaper changes. We do not have rash right now because little girl has cloth diapers. I am thinking it would be safe for cloth because of the natural ingredients?!
Connect: SheaMoisture has their website under renovation but you can leave your email address and they will update you as the site is completed. You can Visit them on Facebook, Twitter, and YouTube.
Win it: SheaMoisture is offering one reader the Three Piece Baby Set. Including the
Raw Shea Chamomile & Argan Oil Baby Head-to-Toe Wash & Shampoo, Raw Shea Chamomile & Argan Oil Baby Healing Lotion, and the Raw Shea Chamomile & Argan Oil Baby Head-to-Toe Ointment.
Using the form below all entries are optional. You must be 18 or older and this giveaway is open to the US only. Winner will be drawn by random and have 24 hours after being contacted to claim their prize or another winner will be chosen
. All entries will be verified.
*Thank you for visiting my blog! I did receive the products mentioned above for my completely honest opinion. My opinion may differ from yours. Mommy Miranda is not responsible for the shipment of the prize mentioned above.